The Ultrasound Research Laboratory (URL) is an epidemiology research facility within the University Of Pittsburgh Graduate School Of Public Health which promotes the mission to improve public health by providing quality non-invasive vascular studies to advance cardiovascular disease (CVD) research. We are located at 130 North Bellefield Avenue, Suite 444, Pittsburgh, Pennsylvania.
Emma Barinas-Mitchell, PhD is the director of the URL. The lab is supported by three full-time registered vascular technologists, a data manager and a research lab manager.
The URL supports a variety of research studies evaluating multiple aspects of CVD risk. The laboratory offers research protocols for carotid ultrasound (IMT and plaque assessment), flow-mediated brachial artery reactivity, three different measures of vascular stiffness, and ankle/arm blood pressures. The URL has also developed a reading protocol to assess peri-aortic vascular adipose tissue volume. The URL serves as both a testing and reading center. All technologists are trained and certified in every testing procedure provided by the lab. Additionally, the URL provides training services for other research projects globally.
Available testing and interpretation equipment includes:
2 Acuson Sonoline Antares ultrasound systems (Acuson, A Siemens Company)
3 Terason T3000 ultrasound systems (Teratech Corporation, Burlington, MA)
1 Cypress ultrasound system (Acuson, A Siemens Company)
Vascular Research Tool software ( Medical Imaging Applications, Coralville, IA)

Brachial Analyzer for Research
Vascular Imager
Carotid Analyzer for Research

Pulse wave velocity waveform collection systems

1 Continuous-wave Doppler (NIA, Baltimore, MD)
2 Colin VP2000 systems (Omron Healthcare)
2 Complior SP (Alam Medical, Vincennes, France)
1 Complior Analyze (Alam Medical, Vencenes, France)
EM4 SphygmoCor XCEL System (AtCor Medical, Itasca, IL)

DynaPulse Pathways software (Pulse Metric, Inc., Vista, CA)
ANSAR testing software
AMS (Artery Measurement Software©) for Carotid and Brachial IMT
AMS Plaque Measurement Software©
Kim Sutton-Tyrrell, Dr PH (passed away on December 3, 2012)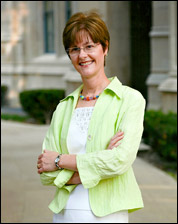 Dr. Sutton-Tyrrell was Professor in the Department of Epidemiology and served as the Scientific Director of the URL for over 15 years, during which time she participated in the evolution of ultrasound measurements of carotid atherosclerosis, as well as other measures of subclinical vascular disease such as vascular stiffness and endothelial function. Under her leadership the URL grew into an internationally known vascular research lab that serves as a clinic site and training and reading center for national and international multi-centered studies utilizing measures of vascular structure and function.
In memory of Dr. Tyrrell, the Kim Sutton-Tyrrell fund has been established at the University of Pittsburgh, Graduate School of Public Health. Donations can be mailed to:
University of Pittsburgh
Graduate School of Public Health
c/o Jill Ruempler
A660 Crabtree Hall
130 DeSoto St. Pittsburgh, PA 15261